The development of logos and visual identities are not simple tasks, and these days, a logo-drop™ is an event in itself. The minute that logo hits the screen, our newsfeeds are packed for at least two days with armchair criticism, backseat designing, and a whole lot of "My 4 year-old could have done this in the dark, blindfolded!"
The Canada 150 logo is something special. The entire branding saga for this project has basically been a case study in what not to do. The government of Canada originally enlisted an in-house team to design 5 logos which would be tested with the public. When those were released, the masses (designers, news commenters, and that one aunt you have on Facebook who writes in ALL CAPS ALL THE TIME) were outraged. The government retreated and came back with a new, shinier plan: a contest! The contest was held for students exclusively, with a cash prize of $5,000, and the "chance to be a part of Canadian history." This time, designers from across the country were even angrier than before.
There's a number of problems with design contests of this nature. The first is that branding an entire country is one of the most difficult tasks you can have, and even the most seasoned design team will struggle. It requires research, development, user testing, feedback, and revisions, over and over again. Resting all of that on a student is insane.
Second, design is collaborative. It takes more than one person and a pirated copy of Photoshop to make a brand that encapsulates the vision, history, and peoples that make up a country. Third, and this is the kicker, saying that winning this contest is a "chance to be part of Canadian history" is essentially the biggest, grandest, most sensational way of saying "There's no room in the budget to pay you, but it'll make a great portfolio piece and look great on your resume!" The last thing the government should be supporting is an initiative that shortchanges the efforts of students and young professionals who are trying to break into an already competitive industry.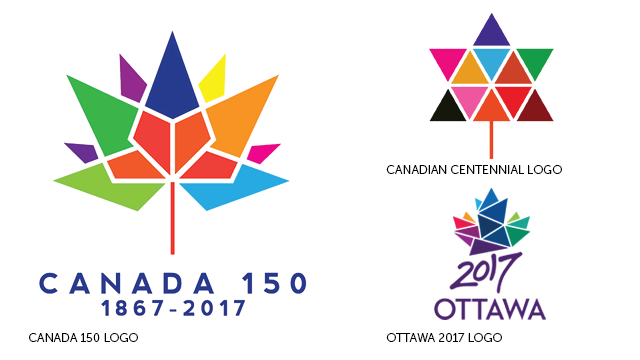 When the winner was unveiled, the logo was met with a lot of mixed reactions. Some said it was hideous, some said it was glorious, others felt it looked like a logo for the LGBT community, while some found it incredibly similar to the Canada Centennial and Ottawa 2017 logos.
All design critiquing aside, there was a lot of criticism toward the designer, Ariana Cuvin, a University of Waterloo student. She was criticised for taking part in the competition by "professionals" in the design community and was basically left to fend for herself against a public that treats design criticism as another recreational sport.
I don't blame Ariana for entering the competition. If I was 19, had student loans to pay off, and was looking for a way to get my foot in the door of the creative industry, I would have thrown my whole body at that contest. $5,000 for one logo that will be everywhere for a year? Sign me up! And at the end of the day, it's not a terrible logo. Yes, everyone can find details that need to be changed, but the basic idea is there.
At this point, the best thing that could come out of this, would be for the Government to hire a Canadian agency, pair Ariana up with them, and work on taking this idea, and pushing it further so that it can be the mark that the occasion deserves. As it is right now, this logo, and the opportunity to celebrate what it represents, stand a good chance of falling flat.
Tim is an intermediate designer at 88 Creative. You can follow him on Twitter here.