This week, the 48-person island of Pictarin legalized gay marriage, because even though they don't have any LGBT citizens (no comment), they thought a few of us might be interested in moving there. Aw!
Yep, the tide has officially turned, and marketers are jumping on it – mostly, pretty effectively. Maybe it's cultural context, or increased sensitivity by advertisers, but LGBT people in ads don't seem as ham-fisted as they used to in recent ads for IKEA, Oreo, Allstate, Cheerios, Chobani, Hallmark, McDonald's, TD, and Scotiabank, just to name a few. LGBT people are becoming more a standard than a surprise – after all, as a market they have an estimated worth of over $790 billion. Who wouldn't want in on that? Other than Chick-Fil-A.
So, in honour of debatably the most prideful Pride week yet, below are the LGBT campaigns I think deserve a slice of that big, gay pie commonly referred to as pink money. (This is offensive. Please consider signing my change.org petition to change it to rainbow bucks. I'll also take glitter dollars.)
A few of these have made me well up at my desk, so, don't say I didn't warn you.
Absolut, 1981 to present
Absolut Vodka was one of the first advertisers to embrace LGBT people, way before it was "okay" to do so. Especially in the early years, Absolut's pride was more of an Easter egg, using images that were meaningful to the LGBT community, but benign to the wider world – like the below corset and Keith Haring print ads. David Lachapelle's latest, at the bottom, is decidedly less subtle.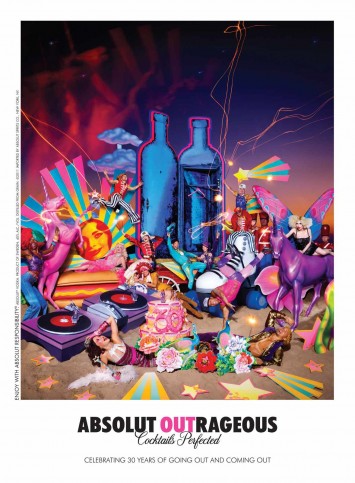 Toyota, 2006
This 2006 Saatchi & Saatchi spot was on way before there were LGBT characters on network TV – aside from Will and Grace – and it's not exactly innuendo. Props, Toyota.

Ray-Ban, 2012
I just love this. Not only does it show that LGBT people are a community with a past like any other, it rewrites history in that Inglorious Basterds type of way. It also perfectly captures what it can be like to walk down the street as a gay couple – oh, and it's based on a real story.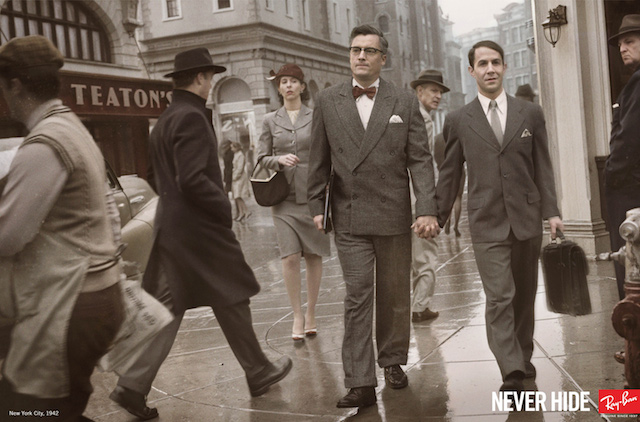 Barney's, 2014
Mainstream brands have been slow to embrace trans people, but Barney's was leading the curve last year with their stunning all-trans campaign, "Brothers, Sisters, Sons, & Daughters."  Note the Keith Haring tattoos. Barney's also created a really stunning 30-minute film to accompany the campaign.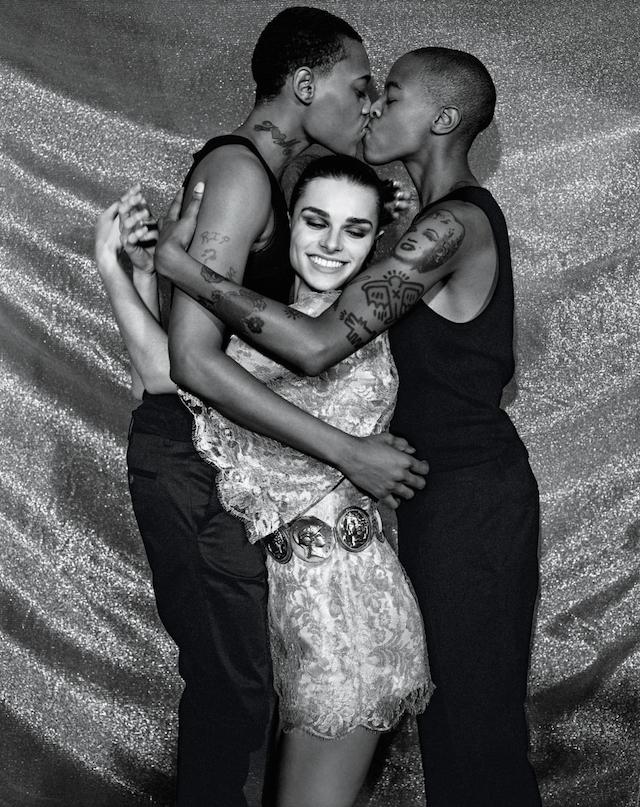 This chronicles the first gay wedding at the Plaza, though their branding is mercifully absent. I cannot get through it without crying.

HoneyMaid Graham Crackers, 2014
A HoneyMaid spot, showing a variety of families enjoying equal-opportunity graham crackers, launched a petition from One Million Moms and One Million Angry YouTube Commenters. The ad itself was unremarkable, but the follow-up spot, below, is what made it memorable for me. Instead of putting the ad up and letting the Internet lay waste to it, HoneyMaid doubled down and stood behind their spot with class.
Tide, 2014
This ad is unremarkable, and that's why I like it – you could sub in any other couple, and the spot would work just as well. Some brands are in such a rush to put their pride on a pedestal that they end up otherizing LGBT communities and patting themselves on the back for it. Others make a halfhearted stab at a "today's changing family" theme and throw up a hashtag. This simple spot doesn't do either, it just works.

There are scores of really great, groundbreaking and inclusive ads I haven't mentioned – including that weepy Esurance spot that came out yesterday. Happy Pride!
Meaghan is a digital co-ordinator at 88 Creative. She tweets, but mainly RTs, @meaghanzabinsky.